A "Christian woman"?
By the way, John Knight, Mark Hall and Art Books are all the same person. Its no wonder that he can get so many people to agree with him. They are ALL him !!!
Go down to the fourth to the last line in this e-mail.
http://www.thelizlibrary.org/fathers/


DANIEL AMNEUS, Ph.D. / JOHN KNIGHT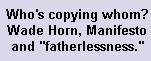 aka MARK HALL aka ART BOOKS
Author of The Garbage Generation
Author of THE FATHERS MANIFESTO--
THE POLITICAL PLATFORM TO REPEAL WOMEN'S RIGHT TO VOTE
[Editor's note: this known LIE has been posted by a known and proven LIAR in an attempt to discredit each of the above men, and it has now been repeated by dek115@aol.com ]
John Knight, I am giving you ONE warning. Do NOT take posts from me and
distribute them all over your little hate groups. If I find out you have done
this again, I will report you to Yahoo and will make sure you never post
again. And I am willing to bet at least a hundred people in these groups will
back me up. You are a piece of scum and a poor excuse for a Christian AND a
patriot.
Doreen
kirkz@softhome.net writes:
Doreen,
Is Yahoo going to stop him? I'll be more then happy to personally write them if necessary. They should have some control over someone taking messages from others and posting those messages against the desire of the author.
KZ I had written yahoo and got nothing but automated replies. So.. I called them. My intent was to get him to stop taking my messages and posting them in a group that I was not allowed to reply. But I guess Yahoo saw fit to delete the entire group.. Of course he has many other groups, but maybe I screwed up his day a little.
Doreen
hengist@home.com writes:
Well, it seems to have come down to a jew worshipping "christian", and a vindictive litle bitch on "ChristianPatriot"
And, of course, Klingbeil and Perna gloat.
-hengist


Hengist/ And all others who receive this:
(and Kirk, please pass this along to the Christian Patriot group because I know nobody else will..)



I was not being vindictive. I have asked John Knight not to copy my messages and post them in groups that I am not in. He refused. I then told him not to do this. He still refused. Again, I told him not to and warned him that I would report him to Yahoo. Then I tried to join the Repeal19 e-mail group so that I could at least defend myself and he wouldn't even accept my subscription. (and the response from some of you was that I was whining.)
John Knight is guilty of bearing false witness against another Christian (Exodus 23:1,Leviticus 19:16, Proverbs 6:19, Proverbs 12:17) with the lies he has told about me. He has called me a feminist, a Jew and a liberal. I consider all of these insults because I am a very conservative antifeminist Christian. Do I care what you all think? Not really. But I still don't want my messages posted where I cant defend myself. AND, its against Yahoo terms of service.
So don't blame me for disrupting your little hate sessions. Blame John Knight. He was warned more than once.
Doreen
<>< <>< <><
wesscott@iglide.net writes:
He is a racist name calling bigot and he should not be on this list.

Where is Brian, the moderater? I am going to send this to him also and maybe he will address this. John Knight has abused his membership more times than I can remember, and not just in this group, but quite a few.
Doreen
> Below you will see a post written by a disgusting piece of crap. He has taken
> my posts from one group and shared them with other groups, groups that I am
> not in and not able to even reply. And he continues to do this without my
> permission. So if there is anyone out there who has some anger and wants to
> vent- have at it.
achilleus2@aol.com

writes:
can anybody else on the list help me out here? I say his post is crap. Anyone out there agree?
Been there. Done that. The problem is, Michael does, at times, make some good points. But he is too busy insulting people that the points get missed. And instead of explaining what he is trying to say, he just says that you are "deluded, blind, using a straw man, ignorant and on and on.." He comes off as very hostile, therefore others will respond in the same way.
Doreen
markhall@rocketmail.com writes:
if you write like a slut, don't be surprised if people treat you like
a slut.

you read the rules--what part don't you understand.

for every post you think is decent, there are three that are trash
talk, and it gets downright depressing.

Mark Hall WHat the heck are you talking about????? You show me one post where I have
written like a slut. You sound an awful lot like John Knight.
Doreen
markhall@rocketmail.com writes:
and that's no excuse for breaking the rules. your posts make most
people want to puke, but they still don't use that as an excuse to
hurls slurs at you, do they?

Mark My posts are always respectful and decent. You may not agree with my
opinions, but I have always been respectful to everyone. I have no idea WHAT
you are talking about. ANd I really dont know where I have broken any rules.
Doreen
You would accuse ME of disobeying the group rules????? Where were you when
John Knight was posting here calling everyone names? I would just like him to
stop copying my messages and posting them in other groups. It seems to me
that he is the one breaking a much bigger rule. I think the worst thing I
called him was a piece of crap. I would think that would me more of a fact
than an opinion.
Doreen
markhall@rocketmail.com writes:
Doreen,

Here are the rules for this group. Why can't obey these simple rules?

=========================
This is for discussion of the Rush Limbaugh show. Liberals are
welcome. But personal attacks or name calling will not be permited
from liberals or conservatives.
=========================

I am sure that most of us are personally sick and tired of your
insulting, demeaning language. If you must talk like this, do it some
place else, but not in public.
You know, this really pisses me off. And I never use the word "piss" so you
know its true. In the abortion debate group I am in, even there we have all
kind of called a truce until this passes because America was attacked. At
this point I dont give a shit who is democratic, republican right or left.
Someone attacked our country and we need to retaliate. Some people have lost
their lives and others have lost their families. This is something that
although tragic, will bring the country together. I am disgusted to hear that
anyone would think the GOP would do this just to keep dems from voting. So
send this back to "Helen" and tell her to go look at her last statement and
think about what it means to be an American above being a democrat.
Doreen
eva@usucceed.com writes:
Repeal the 19th amendment -- stop women from voting? Gee this guy is
a wacko. He was the one who was sending virus infected messages tp
this group, right?

Eva
Yup. I used to say that I didnt have a problem with repealing the 19th, that if it meant getting rid of abortion and such. But after dealing with John Knight there is NO WAY I would let a scum like that do my voting.
Doreen
kirkz@nettaxi.com writes:
Eva,
I think Knight is worse then Phelps, that is if he can be taken seriously. Phelps hasn't been a known racists or anti-Semite *and* Phelps does have some good one-liners like signs that "Save the Gerbils."
KZ I have never had any kind of personal discussion with Fred Phelps, so I cant say much about him. I have with John Knight though, and let me tell you, he is one sick individual. He is against abortion, not because he thinks its wrong, but because it takes away the control from the husband. He is against going after the terrorists, not because he wants peace, but because he HATES Jews and will work with anyone and support anyone who is against the Jews. Why do you think he sticks up so much for Hitler?
Doreen
wesscott@iglide.net writes:
He is a racist name calling bigot and he should not be on this list.

Where is Brian, the moderater? I am going to send this to him also and maybe he will address this. John Knight has abused his membership more times than I can remember, and not just in this group, but quite a few.
Doreen

> > From: "Andre Traversa" <goandre@x...>
> > To: <Rush-Room@y...>
> > Sent: Friday, September 21, 2001 10:24 AM
> > Subject: Re: [Rush-Room] JOHN KNIGHT - SHUT UP & GET OUT OF THIS GROUP
> >
> >
> > > Bob,
> > > >From what I can tell, John Knight is probably a government agent. Mark
> > > posted some ifo about him some time ago, that his organization, Father's
> > > Manifesto, is actually part of a sting operation designed to track down
> > > hate groups. I would just ignore im, and if I were Doreen, I would do the
> > > same.
> > > Andre
> > >

johnperna@compuzone.net writes:
Maybe Dek115 should post that yahoo telephone number so that a few others could use it too. I will post it because I wont be calling anymore. It was not my fault that they deleted the whole group and that was not my intention. All that I wanted was for him to not post my messages. He keeps saying that he doesnt want opinions like mine on his list, so why does HE post them??????
Anyways, here is the # (408) 349-3300
Doreen
NMMJR@aol.com writes:
I did a little checking on the internet about our resident neo-Nazi. It seems that most of the other Aryan Nation types down in his area (south Orange County, CA) don't want to have anything to do with him, because they suspect him of pedophilia. Considering the proclivities of Goebbels, Himmler, et al., he would have fit in wonderfully there.
For freedom,
Nick
Nick, Do you have a link? This would be very interesting.
Doreen
achilleus2@aol.com writes:
John Knight knows I think he's a camel's butt, too.





Maybe you should let Bush know.. : )
Doreen






maybe he might spare one cruise missile for it?

Well, considering that John Knight has so many AKA's, it would actually take care of quite a few people.. <g>
Doreen
Sent: Monday, September 24, 2001 5:08 PM

Subject: Re: [Rush-Room] Women in the Bible

tcffc2000@yahoo.com writes:
None of which answers the question about what you think is meant by "But I suffer not a woman to teach, nor to USURP authority over the man, but TO BE IN SILENCE".

What does that *mean* to you? Answer the question directly if you think it's such a simple answer, and quit telling everyone else what they think. If you don't know, ask somebody. If you need some background, there's a complete analysis at http://fathersmanifesto.com/biblewomen.htm If you think you see an error, point out precisely where it is.

You claimed that since 1 Corinthians 14 includes a statement about speaking in tongues, that "And if they will learn any thing, let them ask their husbands at home: for it is a disgrace for women to speak in the community" applies only to speaking in tongues, and only in church.

But you ignored the other Scripture that was cited, 1 Timothy 2, which doesn't even address speaking in tongues, so what do you as a putative Christian woman think "But I suffer not a woman to teach, nor to USURP authority over the man, but TO BE IN SILENCE" means?

John Knight

ps--it's blasphemy for you to belittle the Holy Bible by calling this discussion "Father' Manifesto Version of Bible", so the subject header was changed.
John, The women of the time were not educated. This is what Paul was addressing, that the women should learn by being silent. And women were highly susceptible to false teachings so they needed to learn before they could speak or teach. Paul did not forbid women to teach. He only addressed teaching men.
What is the point of all this? Are you suggesting that I should not be taking part in this discussion at all? Because I dont even consider you a Christian. Problem solved.
And I wouldnt call it blasphemy when I called the scriptures you quote as coming from the FMV. What is really the blaspheme is THE SCRIPTURES YOU USE.
Doreen